An interview with Robert Fripp
The
Financial Times
has a rare interview with Robert Fripp
available on its site
. It is well worth a read.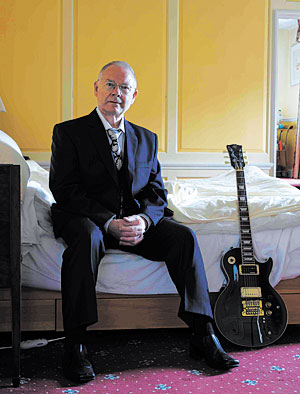 An excerpt:
He has stopped making music and doesn't know when he might resume. "My life as a professional musician," he tells me, "is a joyless exercise in futility"....
The band's history is studded with line-up changes and hiatuses: the most recent Crimson fell silent in 2009. With 18 musicians passing through the band as full members, Fripp has been the only constant presence.
"It's an interesting strategy for keeping the music moving in the direction it goes – that whenever you get close to success, the band splits up," he says drily. "But it's a strategy that does work. Though it's one that you won't find in 'How to Succeed in the Music Industry'. And I can guarantee it will piss off people who are looking forward to having a good career."
Many of his Crimson bandmates have found him hard to work with. "I'd say nearly all of them!" Fripp says. He has a sly sense of humour but he's also exacting and focused, a stranger (unlike certain former colleagues) to rock's distractions of drink and drugs. He fetches several large leather-bound volumes filled with carefully notated musical scores: the original notebooks in which he wrote King Crimson's songs in their 1970s prog pomp.
"Going back to the early King Crimson, the remarkable explosion of the creative impulse in popular music, mainly in rock music, came from these young men who didn't know what they were doing, yet were able to do it," he says. "What has changed in 40 years? It's very simple. Forty years ago there was a market economy. Today there is a market society. Today, everything, including ethics, has a price."